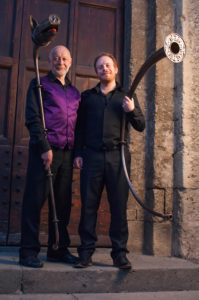 The father and son team of John and Patrick Kenny offer the unique experience of hearing the great horns of the ancient Celtic and Etruscan world played as a duo.  Patrick gave his first performance on the Deskford Carnyx at the re-opening of the National Museum of Scotland in Edinburgh in 2011, and has since gone on to perform internationally on the instrument. As members of the European Music Archaeology Project, John and Patrick have performed as a duo throughout Europe, and in May 2017 made their CD debut on the album Set Upon the Rood, (Delphian Classics 34154) in John Kenny's "The Deer's Cry" for Deskford Carnyx, Loughnashade Horn, and the choir of Gonville & Caius College, Cambridge, directed by Geoffrey Webber.
John and Patrick perform music on multiple instruments, including: trombones, sackbuts, Deskford Carnyx, Tintignac Carnyx, Loughnashade Horn, Alphorn, Conch shells, cow horns, pod trumpets, and Etruscan litus and cornu.
Discover more:
http://www.patkennytrombone.com/index 
http://www.emaproject.eu/events/concerts.html
See John & Patrick Kenny, with choreographer Eric Tessier-Lavigne in the finale of the film Secret House, filmed at Balvenie Castle, Morayshire, Scotland, in 2007. The complete Secret House film and CD double album can be purchased here.